I have been making tortellini soup for years (not sure if I have posted the recipe on here- I made it up) but I saw this one and thought I would give it try. It has both basil and spinach in it which I thought was interesting.
I have to admit this one was not as tasty as our usual one (I throw in carrots, zucchini, etc) this one was way more basic.
Still…I thought I would post it due to the fact that it was fast and super easy- I prepped the whole thing while standing at my island with a friend chatting.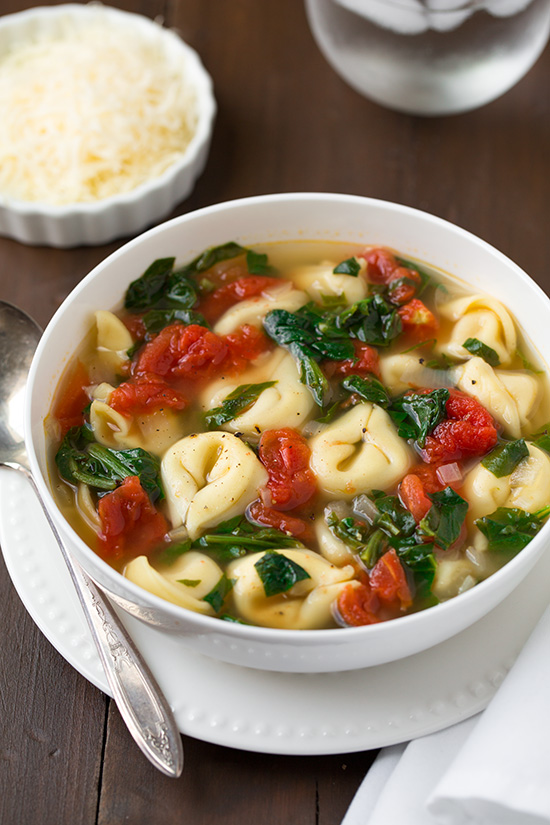 Fresh Spinach Tomato and Garlic Tortellini Soup
Prep Time: 20 minutes
Cook Time: 20 minutes
Yield: About 6 servings
Ingredients
1 3/4 lb Roma tomatoes (about 9 medium)
1 1/2 Tbsp extra virgin olive oil
1 yellow onion finely chopped (1 1/2 cups)
6 cloves garlic, minced (more or less to taste)
2 quarts (8 cups) low-sodium chicken broth
2 cups water
1 (20 oz) package refrigerated three cheese tortellini
Salt and freshly ground black pepper, to taste
1 tsp granulated sugar
6 – 9 oz fresh spinach, chopped
3 Tbsp chopped fresh basil
1/2 cup finely shredded Parmesan cheese, for serving
Directions
Heat a pot of water to a boil and fill a medium mixing bowl with ice water. Once water in pot boils, carefully drop tomatoes into water and boil until skins burst, about 3 – 4 minutes (if a few of them are having trouble bursting, you can remove them from the water and cut an "X" in the bottom of the tomato then return to water for about another minute until skins slightly pull alway). Remove from boiling water and transfer to ice bath, cool slightly then peel, seed and dice into bite size pieces, set aside.
In a pot, heat olive oil over medium heat, add onion and saute until tender, about 3 minutes. Add garlic and saute 30 seconds longer. Pour in chicken broth and water, then increase temp to moderately high heat and bring to a boil. Once it reaches a boil, add tortellini, season with salt and pepper to tastes and boil 7 minutes (or longer if directed on tortellini package).
Stir in sugar, tomatoes, spinach and basil and cook until heated through and spinach wilts. Serve warm topped with Parmesan cheese.
*If it's winter and you're having a hard time finding good Roma tomatoes, you could sub 2 cans regular/petite diced tomatoes, but during the summer when tomatoes are in their prime I highly highly recommend fresh. They make such a difference.
Recipe Source: Cooking Classy
Today is Andy's birthday- looking forward to some nice dinners to celebrate.
Have a great weekend!