I am an old house snob.  I can admit it.
Andy and I have owned two very cool old houses.  Our current house is not one of them.
But I am also picky old house.  I really prefer 1910-1930 with my preference being right around 1920.  I know.  Picky.  I love arts and crafts but not dark arts and crafts.  I like nooks and built-ins.  Walking into a cool old house gives me goose bumps.  I'm not kidding.
So what happens when you find the perfect little town where you want to raise your family.  You can walk to church, the library, the quaint historic downtown, and the kids can walk to school.  Only probably is you have two little boys, another on the way, a couple of dogs, and all the cool old houses are either nor for sale, not big enough, or there is no yard.
We did the next best thing.  We found a cool neighborhood where the houses were a bit bigger, the yards a lot bigger, yet we could still walk everywhere plus have trail access to the bike path along the river.  The yard was perfect, big and full of huge old trees.  The house, well not so much.  1960's colonial.  You know the kind.  Red Brick on the bottom, and white aluminum siding on the top.  So not my style.   But it had good bones- and really we decided it was going to be a temporary house- until a really old house came up for sale that was big enough for our family of 5.
Because Cole was due in 3 months, we didn't tackle a ton of things right off the bat.  We did pull up all of the carpet, and pretty much the whole house had carpet.  Underneath we found wood floors.  Lots and lots of wood floors.  We had them refinished.  The whole house was wallpapered.  I'm not kidding.  Everything.  I will never wallpaper a house.  Ever.  I stripped it all with water and fabric softener. NIGHTMARE.
Andy and I have always remodeled our own houses- so we tried to remodel this one on our own.  But with three kids, our free time just wasn't what it once was and eventually (a few years ago) when we decided it was time to bite the bullet- we put on an addition.  But not only did we put on an addition, we remodeled the entire house.  Top to bottom, almost every room- even the outside.
I thought it would be fun to show you how we took a 1960 colonial and transformed it into a house full of old house character.  We aren't done.  I am planning part 2 right now.  Nothing as major as the first, but fun for sure.
Today I will show you what the previous family (who were the original owners and only had two kids- oh and the parents didn't like dogs (ha!) and both sons grew up to become vets) where was I going with this?  Oh yeah- their family room.  Which we turned into a study.
Before pictures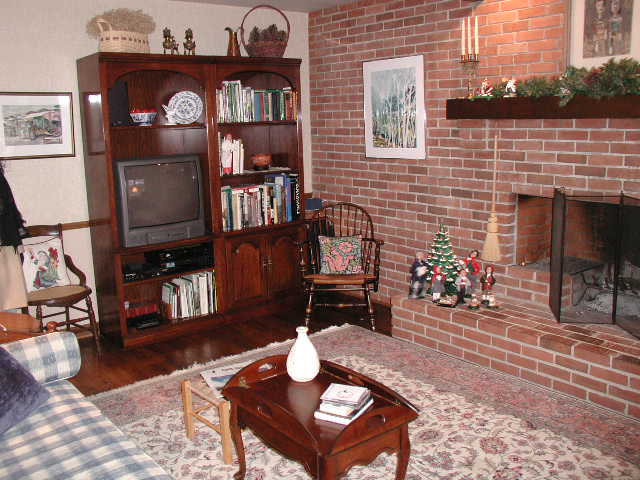 Lots of dark.
After
Before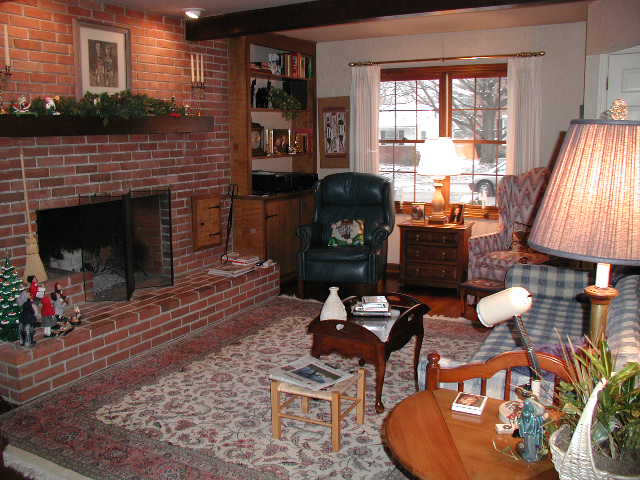 After- as you can see in the after picture, we painted the built-in, beams, changed the trim, new windows

I love this little firewood door- it goes to the garage where you load it up.


This space is now my office/study. I used to hate this room, the size was awkward, I hated the brick wall, now I love it.   It has become one of my fave rooms.

My big red E- a gift from Aimee.  A drawing of our historic downtown.



Love the peg floor.
Here is what the hallway used to look like

Look how little Blake was!
We pulled the wall back on the stairs- you can see how far the wall comes down on the left side of the pic- the stairway was like a dark cave, changed the railing and newel post, bumped out the front door- it used to be we would enter and all pile up when the first person stopped.


About to change this front door.

I will try to pick a new room to show tomorrow but Cole has the stomach flu so it may be tough.