Last night we tried these Taquitos that I found on Pinterest- recipe on this blog.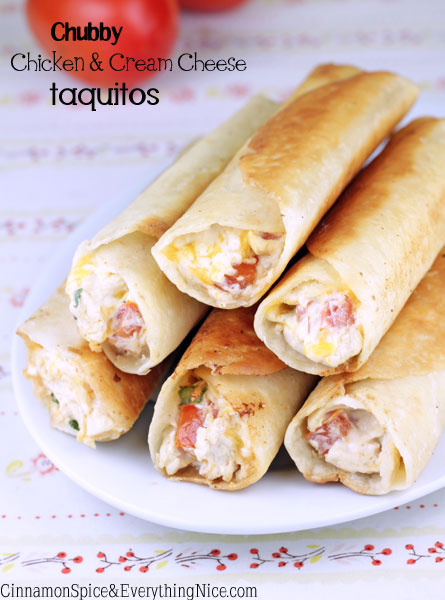 They were SOOO good!
We made our fave green salsa to go with them.
Recipe for Taquitos
Ingredients
3 cups cooked shredded chicken (I like rotisserie)
6 ounces cream cheese, softened
1/3 cup sour cream
1/2 cup salsa
1 + 1/2 cups shredded sharp cheddar cheese
1 + 1/2 cups chopped baby spinach, stems removed
coarse salt and fresh black pepper, to taste
9 – 10 (6-inch) flour tortillas
vegetable or canola oil, for frying
your choice for serving:
sour cream/quacamole/salsa/taco sauce/ranch dressing
Instructions
In a large bowl mix together the chicken, cream cheese, sour cream, salsa, cheddar and spinach. Season to taste with salt and pepper.
Working with one tortilla at a time add 2 heaping tablespoons of the chicken mixture off center and spread out like a log. Roll up and set seam side down on a platter. Repeat until all the tortillas are filled and rolled.
Add enough oil to a large skillet to generously cover the bottom. Heat on medium to medium-low heat, cook tortillas in batches, turning to brown each side. Remove to paper towels to drain.
Serve with your choice of dunking sauce.