Tonight was one of those nights where I opened the fridge and threw together something on the fly. With the help of Pinterest.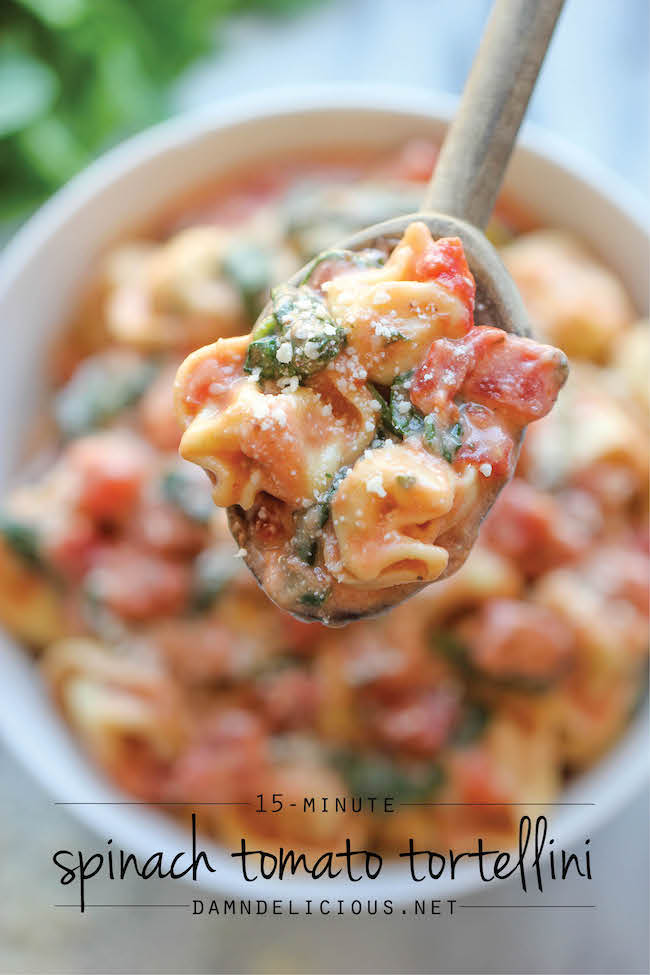 I found this recipe and with a few modifications- dinner was on the table!
I didn't have tortellini so I used farfalle. I also used a lot more spices- especially the red pepper because I love spicy. I didn't have cream so I used half and half. I probably used more parm cheese than it called for as well. It was really good!! The workers at my house commented that you could smell it outside and they were all getting hungry!
Spinach Tomato Tortellini
Prep Time 5 minutes
Cook Time 10 minutes
Total Time 15 minutes
Yield 4 servings
The most unbelievably creamy tortellini you will make in just 15 min. Doesn't get easier or tastier than that!
Ingredients
12 ounces tortellini pasta
1 1/2 cups heavy cream
2 tablespoons all-purpose flour
1 tablespoon olive oil
3 cloves garlic, minced
1 (14.5-ounce) can petite diced tomatoes
3 cups spinach, roughly chopped
2 teaspoons dried basil
1 teaspoon dried oregano
1/2 teaspoon dried thyme
1/4 teaspoon crushed red pepper flakes, optional
Kosher salt and freshly ground black pepper, to taste
1/4 cup grated Parmesan
Instructions
In a large pot of boiling salted water, cook pasta according to package instructions; drain well.
In a small bowl, whisk together heavy cream and flour; set aside.
Heat olive oil in a large skillet over medium high heat. Add garlic, and cook, stirring frequently, until fragrant, about 1 minute.
Stir in tomatoes, spinach, basil, oregano, thyme and red pepper flakes, if using; season with salt and pepper, to taste. Cook, stirring occasionally, until spinach begins to wilt, about 2 minutes.
Gradually whisk in heavy cream mixture and Parmesan, and cook, whisking constantly, until slightly thickened, about 3-4 minutes. Stir in tortellini and gently toss to combine.
Serve immediately.
Once again the oldest gobbled it down. The 2nd one ate a little bit, and three and four had Annies mac and cheese.