I found this recipe on this blog (and it looks like she has TON more great ones that I will checking out!) It was SO good and it's vegetarian which helps since Austin was home the night I made it. It also was great added to our breakfast tacos the next morning. Enjoy!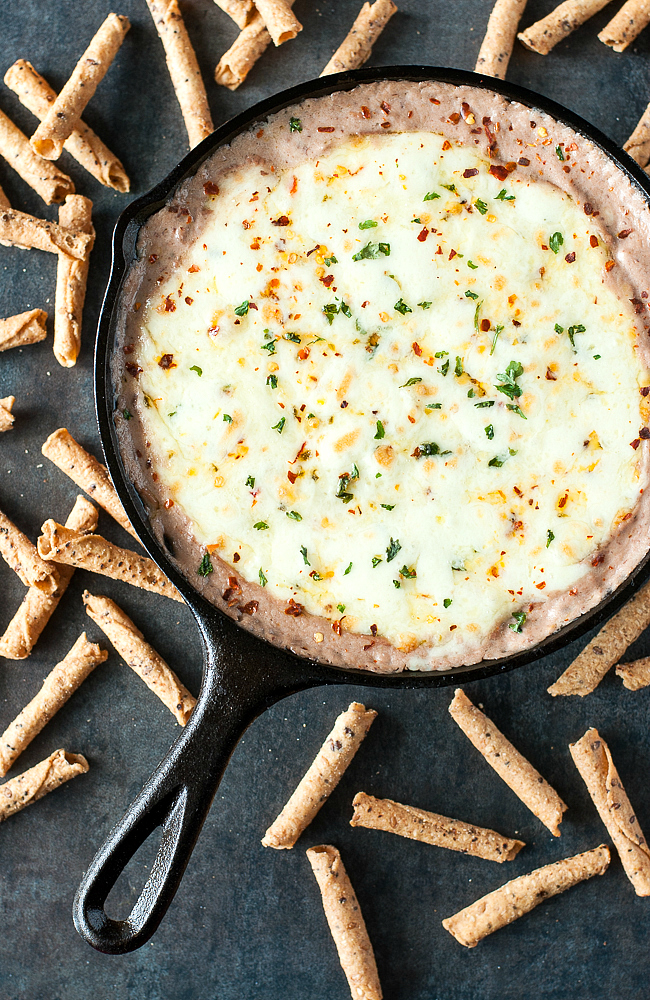 Ingredients
3/4 cup tomatillo salsa verde
15 oz [1 can] vegetarian refried black beans
8 oz cream cheese
1/4 tsp cayenne pepper
1/8 tsp salt
8 oz pepper jack cheese, freshly grated, plus a few extra ounces for topping
1 oz grated mozzarella, for topping
1/4 tsp red pepper flakes for topping [deliciously spicy + optional!]
1/4 tsp dried parsley for topping
tortilla chips and veggies for dipping
Instructions
Pre-heat oven to 350 degrees F.
Take out pepper jack cheese and cream cheese ahead of time and allow to soften.
Next combine your beans and green salsa in a well-seasoned cast iron skillet and bring to medium heat on your stove top, stirring frequently.
Add softened cream cheese, salt, and cayenne pepper, and mix thoroughly.
Once the beans are hot and the cream cheese has fully melted, slowly add freshly grated pepper jack cheese, stirring constantly to incorporate.
Top with extra pepper jack, grated mozzarella cheese, parsley and red pepper flakes, and bake at 350 degrees F for 10-15 minutes or until hot and bubbly!
To make the cheese bubbly and golden, switch your oven to broil on high for just a minute or so [keep an eye on it to prevent burning]
Dig in right away and store leftovers for up to 4 days in a covered bowl. May be reheated in the oven or microwave. Enjoy!
Next time I might add jalapenos to part of it for me 🙂