If you are looking for a YUMMY quick recipe for the family this one is fab.
I found it here.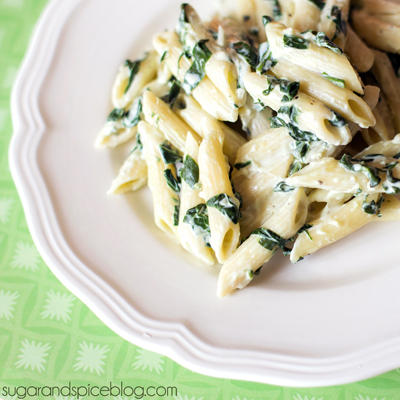 1 lb box of your favorite pasta (penne, fettuccine, papardelle, etc)
1/2 cup (1 stick) butter (I use light butter)
4 cloves garlic, minced
1 pint of heavy cream (I use light cream)
1 cup of freshly grated Parmesan cheese (not the kind in the green canister!)
2 tbsp cream cheese
6 oz bag of fresh spinach, roughly chopped
salt (to taste)
freshly ground black pepper (to taste)
pinch nutmeg
Directions:
1. Cook pasta til al dente. While pasta is cooking, make the sauce.
2. In a large saucepan, melt butter over medium heat. Add garlic and cook for two minutes, then add heavy cream and cream cheese. Heat until sauce is slightly bubbling, but not boiling.
3. Add Parmesan cheese, spinach, nutmeg, salt and pepper. Cook until spinach starts to wilt. Add cooked pasta to Alfredo sauce and serve.
We also added chicken on top for those non-vegetarians in the family.
Enjoy!