Want a recipe your whole family will love? Ok well at least most?
This one is awesome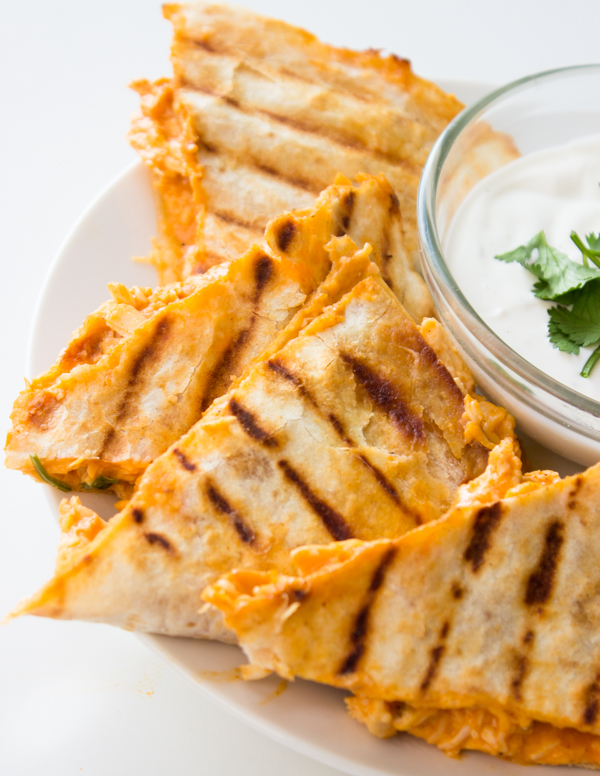 I love buffalo chicken and this is a great light version of staple we do around here. Oh and I buy the tortillas from Costco that you make yourself. Makes it so much better!
Prep time
4 mins
Cook time
15 mins
Total time
19 mins
Author: Layla
Serves: 4
Ingredients
2 cups shredded rotisserie chicken
½ cup buffalo wing sauce
2 tablespoons ranch dressing
2 teaspoons canola oil
⅛ cup cilantro (optional)
¼ teaspoon salt
⅛ teaspoon pepper
4 flour tortillas (10 inches)
2 cups (8 ounces) shredded Mexican cheese blend
¼ sour cream for dipping
Instructions
Heat skillet to medium heat, In a small bowl, toss chicken, buffalo sauce, ranch, cheese, salt & pepper, and cilantro.
Lightly grease pan with olive, Place tortilla on pan, top with ¼ of chicken mixture and fold in half. Allow to cook for 2 minutes and flip for 2 minutes on the other side. Remove from heat and repeat the process for all four tortillas. Cut each quesadillas into 4 portions, makes 16 slices.
In a small bowl, mix sour cream, garnish with cilantro and serve with the quesadillas as a dip.
Enjoy!