When we lived in Dallas there was a restaurant called Luna De Noche that had the BEST salsa. After we moved away we always talked about how much we missed it.
Somehow Andy found out that you could buy a calendar from them that had a lot of their recipes on it. One of them being the salsa.
Um, yes please!!!
We have been making it every since. We usually split it in half and freeze part of it and keep the other half in the fridge. Last time we went to Florida we threw the frozen one in the cooler and took it with us. It's so good you guys.
My kids have always snubbed their nose at it because it is green-ish. But tonight both Blake and Cole tried it and loved it- even though it has a bit of a kick. (which you can kind of control if you choose).
Anyway- thought I would share because you guys might just love it as much as we do!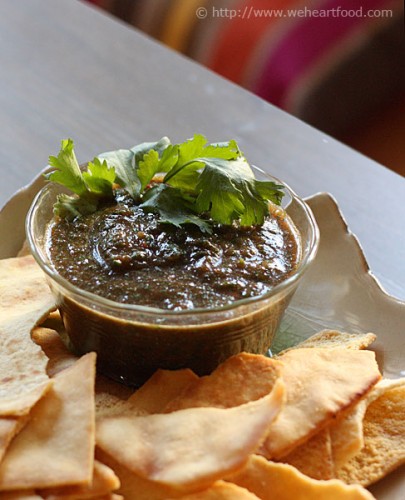 Photo by we heart food
Cilantro Salsa
2 32-oz cans Whole Peeled Tomatoes
3 jalapeño peppers
5 bunches of Cilantro
2 tbsp granulated garlic
2 tbsp salt
2 tbsp red pepper flakes
1 tbsp vegetable oil
1 tsp black pepper
Boil the Jalapenos until tender. Drain. Remove the seeds and membranes.
Remove and discard the stalks off one bunch of the cilantro, then coarsely chop the leaves and and throw them in the food processor. I usually do two batches splitting the recipe in half each time. It's super easy and super yummy!!