Tried these enchiladas last night after finding the recipe here.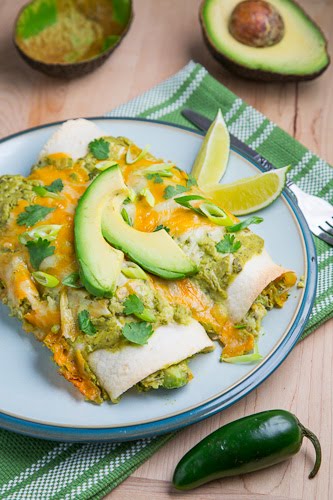 They were SO GOOD!
I have been trying a few new recipes since I got my new stove last week and but I am only posting the ones that I loved and will for sure be making again and again.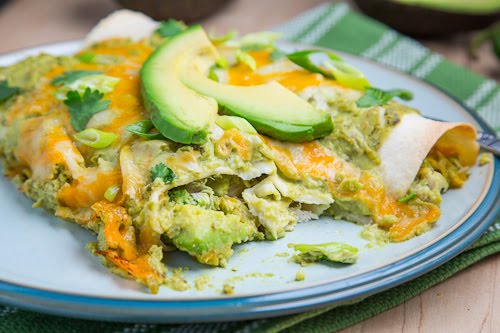 I used the leftover chicken we had from grilling out the other night which was awesome to start with- I don't have the marinade used for that as one of my friends brought the chicken but I will try to get that from him soon.
Chicken and Avocado Enchiladas in Creamy Avocado Sauce
Servings: makes 4 servings
Prep Time: 10 minutes
Cook Time: 20 minutes
Total Time: 30 minutes
Ingredients
1 cup chicken broth
1 cup salsa verde
1/2 cup sour cream (or Greek yogurt)
2 avocados
1 jalapeno, coarsely chopped (remove seeds for less heat)
1 clove garlic
1 teaspoon cumin, toasted and ground
salt and pepper to taste
1 handful cilantro
1/2 lime, juice
4 cups cooked shredded chicken
2 avocados, diced
2 green onions, sliced
2 cups cheddar cheese, shredded
2 cups monterey jack cheese, shredded
8 (7 inch) tortillas
Directions
Puree the chicken broth, salsa verde, sour cream, avocados, jalapeno, garlic, cumin, salt and pepper, cilantro and lime juice in a blender or food processor.
Mix the half of the sauce with the chicken, avocado, green onions and half of the cheese.
Coat the bottom of a large baking dish with some of the remaining sauce.
Wrap the chicken and avocado mixture in the tortillas and place them in the dish.
Top the enchiladas with the remaining sauce and cheese and bake in a preheated 350F oven until the cheese has melted and the sides are bubbling, about 15-20 minutes.